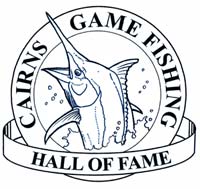 The Cairns Game Fishing Hall of Fame selection committee and the Cairns Professional Game Fishing Association are proud to announce the 2016 recipients of the Cairns Game Fishing Hall of Fame.
With 2016 being the 50th Anniversary of the first grander black marlin caught in Cairns the committee have chosen 6 recipients for this prestigious award. The inductees are being recognised for their significant contribution to Cairns game fishing during their lifetime.
The recipients are:
Captain Peter Bristow, Dr Dave Curnock, Billy Fairbairn, Patrick Gay AM, Bob Lowe and Vince Vlasoff MBE
The awards presentation will be held in conjunction with the 50th Anniversary tournament presentation dinner on Friday, September 30th in Cairns. Please come along and celebrate the achievements and honour these Hall of Famers. Information on tickets for the dinner can be found here.