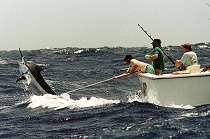 Cairns Professional Game Fishing Association (CPGFA) was formed in 1972 to provide a united and representative voice for the local game fishing industry on matters relating to vessel survey and manning requirements.
In subsequent years the marlin fishing industry grew and conservation issues came to the forefront of the Association's activities.
Today the CPGFA has moved into the new millenium with the continued aim of representing the professional game fishing charter operator and the people who work within the industry. With members right down the east coast of Australia, the Association continues to strongly and effectively lobby government and industry on behalf of its members.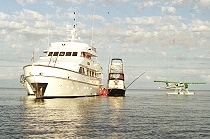 Instrumental in obtaining a federal government ban on the commercial take of Blue and Black Marlin in the Australian Fishing Zone (AFZ), and through its support and funding of sonic tagging and tracking programs, the CPGFA actively supports fishery research programs and sustainability studies.
With the CPGFA's "Code of Practice" the association's members lead the way in the tourism industry in terms of both conduct and safety.