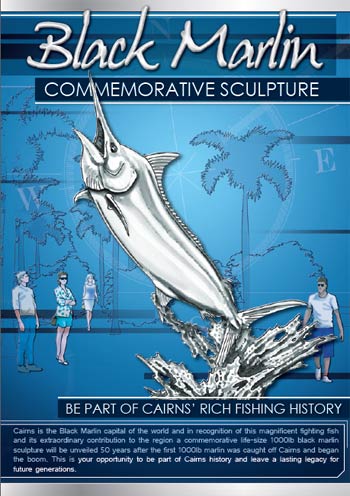 Download the brochure or read it online (flip viewer).
The Cairns Game Fishing Commemorative Association Inc. is working tirelessly to raise funds to erect a life size 1,100 pound BLACK MARLIN sculpture on the Cairns waterfront adjacent to the Marlin Jetty. This sculpture will recognize the history and the significant contribution that the black marlin and game fishing has made to the region over the past 50 years since George Bransford and Richard Obach weighed the first 1,000 pound marlin in Cairns. The intention is to unveil the sculpture in conjunction with the Cairns Black Marlin 50th Anniversary celebrations in September 2016.
IGFA President Rob Kramer and Marine Artist Guy Harvey have come onboard in support of this project. This sculpture will be an icon of the Cairns waterfront and will be a lasting legacy to a fishery which has contributed significantly to Cairns and North Queensland in the past, and by increasing the public's awareness, will also contribute to the conservation of the species for future generations.
Donations from individuals and companies towards this exciting project are welcome and greatly appreciated. Information on how you can assist can be requested by email or see the facebook page at: https://www.facebook.com/cairnsblackmarlinsculpture